The Brandt Family
By Dan Lea dea@idahopress.com
Posted: Tuesday, March 30, 2010 5:48 pm


The Brandt family has left an indelible imprint on Nampa and the Treasure Valley through three generations of philanthropic generosity. Their legacy has touched nearly every facet of the community from business and industry to education and the arts.
Their entrepreneurial spirit, civic involvement and commitment to education, culture, religion, business and recreation have improved the quality of life for thousands of residences — young and old — and will continue to do so for generations to come.
The scope of the Brandt family's generosity can be seen in the John H. and Orah Brandt Fine Arts and Convocation Center at Northwest Nazarene University, Brandt Auditorium at the Nampa Civic Center, the Free Enterprise Center at Boise State University and countless other charitable organizations that aid the needy, support youth and religious education.
Rooted in agriculture and real estate, the Brandt family has relied on a strong work ethic and staunch belief in the free enterprise system to forever alter the fabric of the community for the better.
Nampa was golden
Herman Brandt grew up in Nebraska where he made his money farming. In the late 1880s he came West around the time of the Alaskan gold rush. He looked in Nampa, Seattle and Alaska before he settled here. He bought several farms, dabbled in real estate and married Grace, a schoolteacher from Kansas.
"In those days you didn't have to have a real estate license," grandson Don Brandt said. "So he sold real state on the side."
He showed Grace around and sold her a 40-acre farm. The story he always used to tell was that he married her to get it back."
One of seven children, John Brandt was born and raised in Nampa, graduated from the College of Idaho in 1926 and completed post-graduate studies at Stanford University in 1929. He aspired to become a college professor and worked as a teacher and superintendent in Cambridge in western Idaho, where he met and married his wife of 51 years, Orah.
Her father, Samuel Keithly, came West by wagon train as a youngster in the 1870s and settled in Midvale (Middle Valley).
To this day there is still a Keithly Creek, cemetery and mountain in the Midvale area.
Love for learning
Education was near and dear to John and Orah Brandt. John's early years were spent as a teacher, coach and superintendent. Orah earned her teaching certificate at 16 and was a teacher at a country school in Midvale a year later.
"She would ride horseback an hour each way and wound up teaching 18 year-old boys among her students," her son Don Brandt said.
The couple met while teaching at Cambridge School District.
John served a dozen years on the Nampa School District Board of Education while Orah was active in the PTA for 25 years.
She and a group of women are credited with starting the first hot lunch program in the Nampa schools. She also taught Sunday school for 40 years.
So, it comes as no surprise that the Brandts shared a love for learning and supported education with their time and their money.
"They both had a real love for education," neighbor and Brandt Foundation secretary Lawrence Gray said. "Orah was really geared to education but she also had a real concern for the disadvantaged person. Lots of people talked about bettering the community but it wasn't just lip service to John — and I admired that."


Home to Nampa
John and Orah Brandt returned to Nampa in 1936 when he opened the Brandt Agency, a real estate, insurance and farm management company that his son, Don, still runs today.That began a lifetime commitment by John and Orah Brandt to improve the quality of life in Nampa.
John was one of the founding members of the Nampa Industrial Corporation and a tireless campaigner for business and industry in the rapidly growing community.
"From my young perspective back then, John was bigger than life because of the persona that he projected, Brandt Foundation member and longtime neighbor Jerry Hess said. "John was highly moral and ethical man who lived what he believed." Hess characterized John Brandt as "tenacious and intensely conservative."
"John didn't care for government intervention in our lives and he would speak his mind freely to the politicians from both parties. You always knew what he thought. There was no pretense with him. His son, Don, who I grew up with is much the same."
At the same time Orah carved out a legacy of her own through her civic involvement. She is credited with helping start the first YWCA in Nampa and served in leadership roles with several charitable organizations including the Women's Century Club.
John's only other love was his search for the perfect rock to cut and finish. His gemstones continue to be on display at the Nampa Historical Museum and the Civic Center.
The couple raised three children: Don, Joan and Marilyn who all graduated from Nampa High School. Don stayed in Nampa to run the family business while Joan became a psychologist in Salt Lake City and Marilyn rose to become head of marketing at Pacific Northwest Bell in Seattle. None of the three ever married.
Gifts shaped Nampa
The $2 million gift given by John Brandt to Northwest Nazarene University in the mid-1990s served as the catalyst for NNU's ambitious $25 million expansion of the Nampa campus but, more importantly, it symbolized a new spirit of cooperation and unity between the city and NNU.
"John symbolized that new era of cooperation," former NNU president Richard Hagood said. "It was a remarkable gift when you consider John was not an alumnus of the university, but I think he identified with the moral values we hold."
"Mr. Brandt's donation gave a blessing to the proposed project and said to the community that NNU was worthy of investment," Hagood added.
The facility has become a center of cultural, performing arts and religious education activities.
A second gift helped construct the Nampa Civic Center. The Civic Center's auditorium is named for the Brandts. The facility is host to entertainment, educational and community events almost ever day of the week.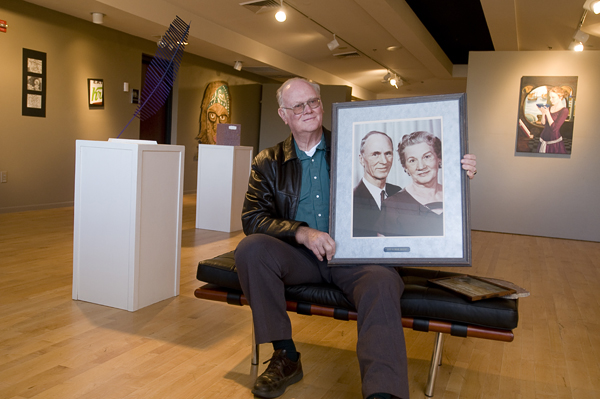 Foundation's focus
The Brandt Foundation has focused its contributions in the areas of free enterprise, youth and the needy. "We've tended to lean toward a philosophy of concentrating on fewer but larger grants for those organizations we give to," Don Brandt said.
Recently, the foundation donated to the new Health and Science building at NNU. It also has a fixed commitment to support the Free Enterprise Center at Boise State University. The center promotes the free enterprise philosophy so strongly held by John Brandt through its work and a lecture series that has hosted leading economists and business experts.
In addition, Nampa Christian School, the Nampa Salvation Army, Boys and Girls Club, Valley Crisis Center, Syringa House and Love INC have been beneficiaries of foundation funds as it continues to focus on education, youth, those in need and faith-based organizations.
Philanthropy continues
Don, who now heads the foundation his father established, has ensured that the philanthropic legacy of the Brandt family continues to improve the quality of life for Nampa residents.
He and his siblings, Joan and Marilyn recently announced a personal gift to the city of Nampa of 26 acres at the intersection of Cherry Lane and Franklin that will eventually be developed as a park named in honor of their mother.
"In Boise they call Julia Davis, Ann Morrison and the other parks the crown jewels and they are all named after influential women," Don said. "We thought this would be a fitting tribute to our mother."
Orah Brandt passed away in 1982 and John died in 1999 at the age of 94.Don Brandt currently donates space to Love INC, Nampa's faith-based center that aids needy families and individuals.

Today the rich history of community service and the spirit of excellence continues. The Brandt Agency is here to help welcome you to a place that their family has loved for generations and hopes you will also be proud to call home.